Houston's energy and mining-related job growth is accelerating as oilfield activity expands. High energy prices have been a boon to the region, and retail fuel prices have begun to ease. The local labor market continues to post strong improvement with above-trend job growth and falling unemployment.
Oil and Gas
Houston Payrolls Accelerate After Lagging Nation for Two Years
The recovery in Houston's oil and gas payrolls—oil and gas extraction and support activities for mining—has lagged the rest of Texas and the U.S. for most of the pandemic. The number of Houston oil and gas jobs rose to 64,330 in July, while the total in the rest of Texas reached 127,132. Oil and gas employment jobs outside of Texas totaled 149,860 (Chart 1).
While much of the industry is headquartered in Houston, employment growth has been concentrated in West Texas and other producing regions where oilfield services jobs have driven growth.
Houston's Broader Oil and Gas Mining Sectors Picking Up
The average West Texas Intermediate crude oil price in July was $110 per barrel, down from $117 in June. The active U.S. rig count (indexed to the price of oil in the chart) continued its steady pace of increases, rising to 719 for the month (Chart 2). Higher oil, natural gas and natural gas liquids prices (such as ethane, propane and butane) have spurred the growth of many private exploration and production companies. They now make up most of the drilling activity in major basins as opposed to publicly traded firms.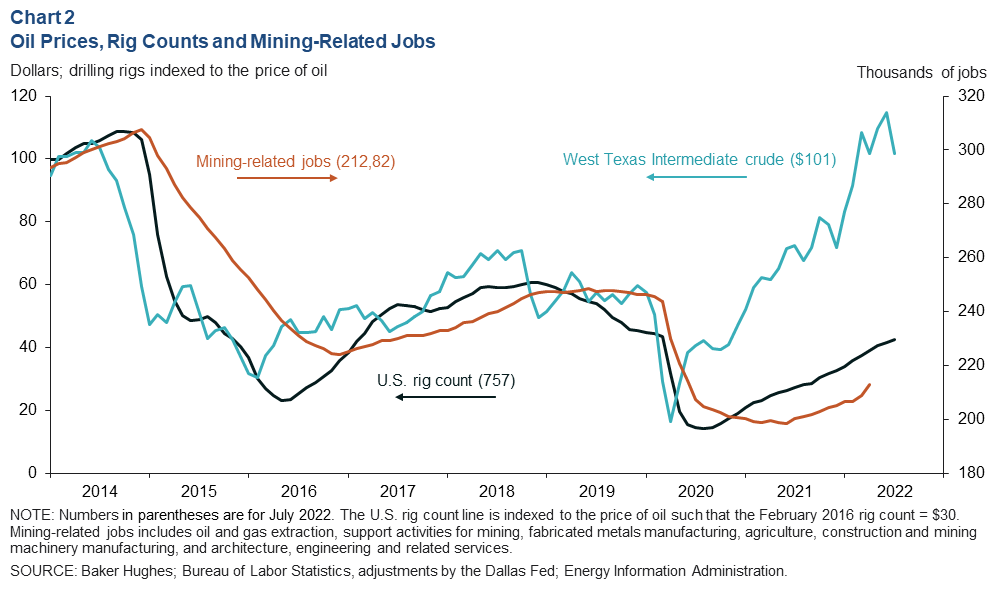 Oil and gas jobs extend beyond mining in Houston, a major energy hub. Oilfield machinery manufacturing, fabricated metals, pipeline transportation, and engineering and related services are all highly correlated with drilling activity. These mining-related sectors make up the majority of Houston's energy base and have picked up in recent months as industry spending slowly recovers. Combined, Houston's mining-related payrolls totaled 211,800 jobs in June.
Fuel Prices Ease Due to Softening Oil Prices
Nominal retail gasoline prices in Houston have been falling for seven weeks. Regular gasoline fell from $4.62 per gallon the week of June 13, 2022, to $3.72 the week of Aug. 1. On-highway diesel fell from a high of $5.45 per gallon the week of June 20 to $4.80 the week of Aug. 1 (Chart 3).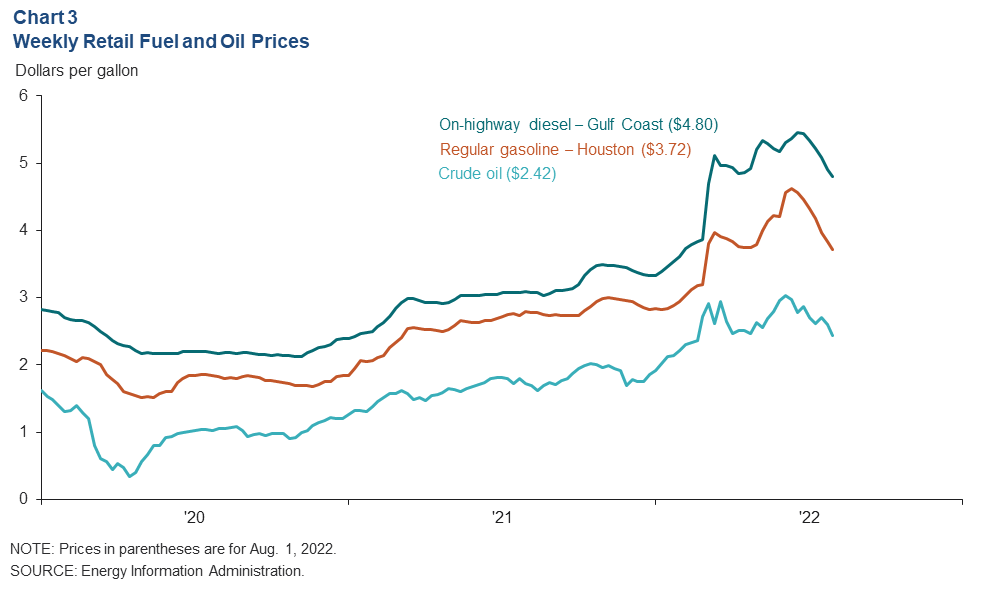 Easing fuel prices were driven in part by declines in benchmark Brent crude, which slipped from an average of $3.03 per gallon the week of June 6, 2022, to $2.44 the week of Aug. 1. There are also signs that U.S. fuel consumption is slowing. However, while high energy prices are taxing for consumers, they tend to produce a tailwind for Houston's economy.
Employment
Job Growth Accelerates in July
Houston payrolls accelerated from May to June when compared with the year-to-date pace of growth. One-month changes can be volatile and are subject to substantial revision, but the annualized growth rate of employment was 7.2 percent in June, while the year-to-date pace was 5.2 percent (Chart 4).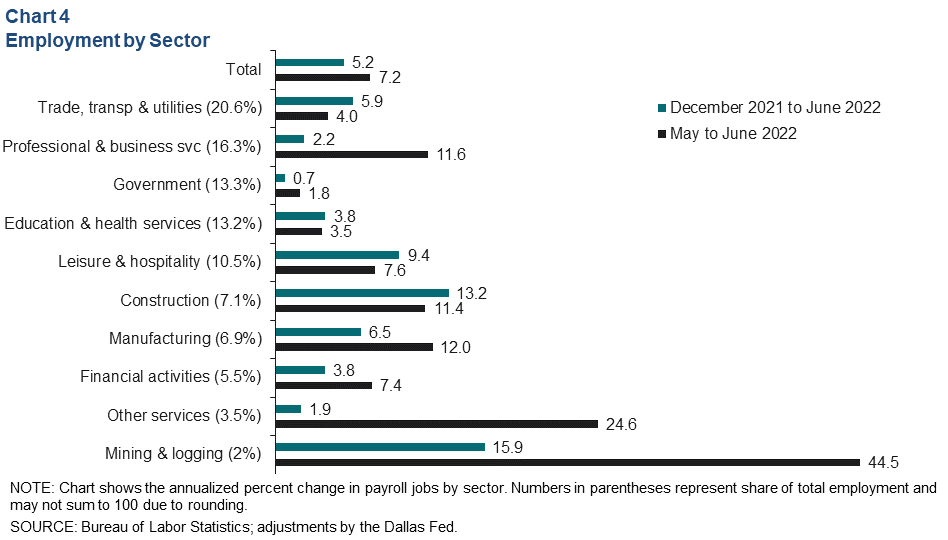 Year to date, the fastest rate of growth has been in the mining and construction sectors, which added 4,630 jobs and 13,240 jobs, respectively. However, the bulk of the jobs added this year were in Houston's trade, transportation and utilities (18,870 jobs) and leisure and hospitality (15,020) sectors.
Labor Market Tightening
The unemployment rate in Houston edged down to 4.6 percent in June, and in Texas overall, it dropped to 4.1 percent—a continuation of the steady improvements that have occurred throughout the pandemic (Chart 5). By comparison, the unemployment rate in the nation overall was 3.6 percent in June and 3.5 percent in July.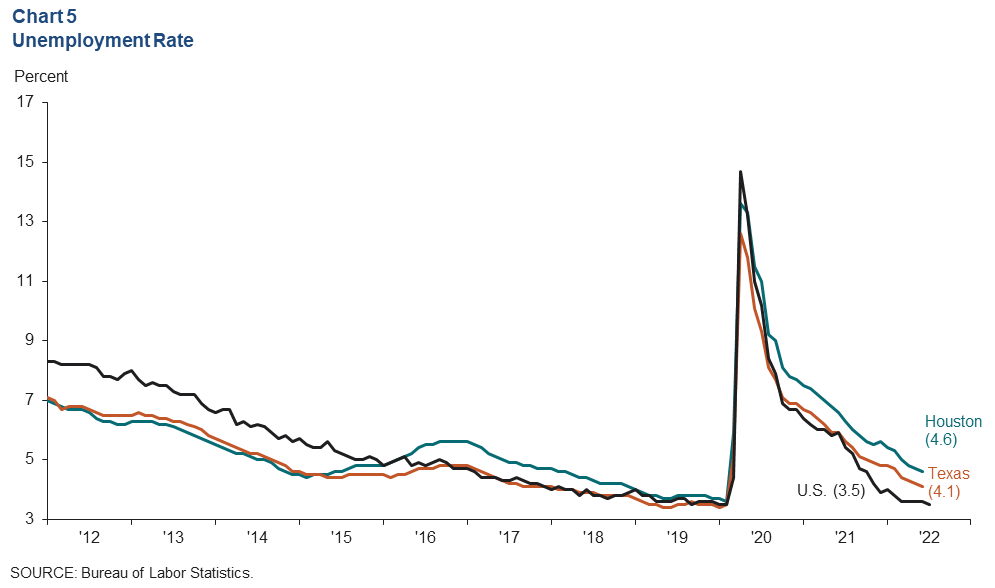 Part of the reason for the difference between the region and the U.S. is the recovery of the region's labor force to above prepandemic levels. From February 2020 to June 2022, Houston's labor force grew 1.7 percent, and Texas' grew a whopping 4.3 percent. However, the national labor force has not yet fully recovered.